To celebrate GTR Pro's crowdfunding activities reached 300%, we are here to send benefits again~



1. Although our crowdfunding campaign is over, the 40% discount perks on the crowdfunding campaign interface will be reserved for ten days, and you still have the opportunity to buy Beelink GTR Pro at a 40% discount.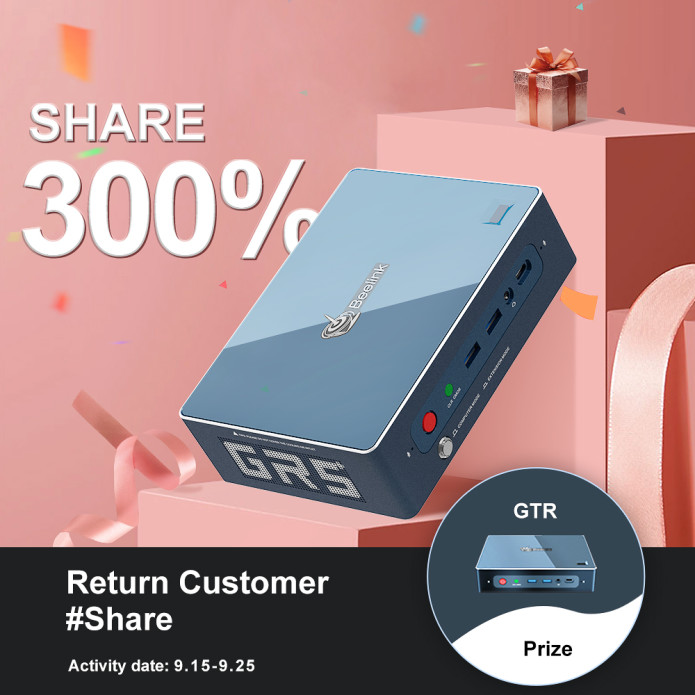 2. Dear friends~#SHARE# is the theme of our event. Do good products need to be shared with friends?
Game Rules:
Participants need to be on the crowdfunding page and can share with friends by clicking "Facebook, Twitter&". The more your friends buy through your sharing, then you may become the ultimate winner of our #SHARE# campaign Oh!


Award criteria: The user who attracts the most purchases from friends through the shared link is the final winner.
Prize: A GTR (16+512+1TB)! ! !3. #SHARE#The date of the event: September 15th-September 25th at 15:00 (GMT+8).
PS: We will ship products to users who support GTR Pro crowdfunding from tomorrow in the order of purchase. The delivery time is 7-14 days. If you want to ship through a European warehouse, the delivery cycle is longer and the delivery time to the European warehouse needs to be increased. The delivery time to the European warehouse is 15-21 days.(If there is no special request to ship from the European warehouse, it will usually be sent directly to you via DHL.)